Northeast Ceramic Supply/Monroe ClayWorks (NEC/MCW) is delighted to begin our adventure in woodfiring. June 2015 was when we began our woodfiring journey with a "Kilnstarter" to build Bruno. The idea for a wood kiln began with Bruno Laverdier's generously giving us the brick and steel from his gas kiln. We, along with Patrick Durkin, brainstormed the possibility of re-purposing Bruno's hard and soft kiln brick.
The idea of building a wood kiln at NEC/MCW was exciting. We quickly decided the kiln needed to be as smoke and ember-free as possible which led us to zeroing in on a train or Bourry Box design wood kiln. All three of us enthusiastically agreed the kiln would be named Bruno.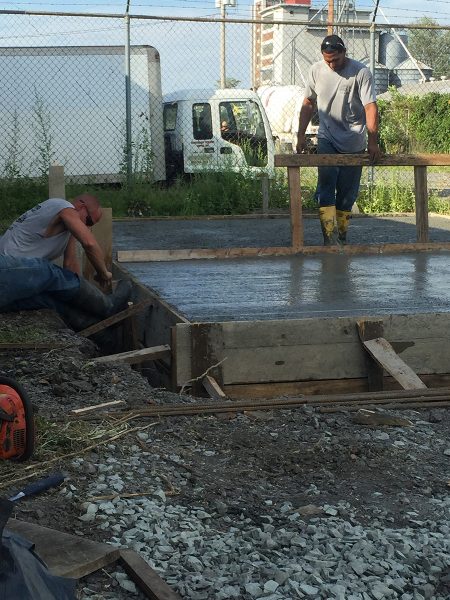 Since NEC/MCW is located in the northeast of the U.S. and we have deep cold winters, we knew we would need a good foundation for B
runo plus a decent sized concrete pad and kiln shed. We asked architect Joe Fama to draw up plans. Joe drew up the plans and also consulted with a structural engineer. While Joe was working on the plans for Bruno we struck on the idea of a "Kilnstarter" as a way to fund the cost of building Bruno.
In June 2015 NEC/MCW broadcast via our incredibly friendly, close-knit clay community, our Bruno Kilnstarter. On June 4th the first donation came in ~ we were beginning the amazing journey. Beginning June 4th NEC/MCW received donations at a startling rate. Week by week our Bruno Kilnstarter grew.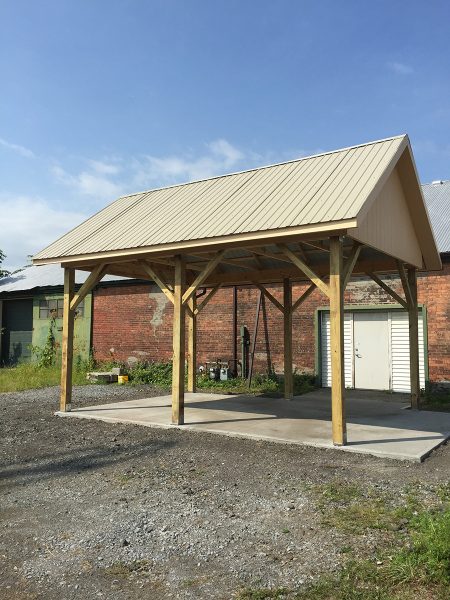 Barbara Costanzo updated our webpage with the current donation total and Kilnstarter flyers ~ many thanks Barbara.   A big thank you to Mary Shaw for taking in and recording each donation and also continuing to keep track of clay, firing, etc. As of this writing (May 30, 2016) we have received $19,825!!
We formed a building committee (Dennis, Tom Forster, Richard Reiner & John Vasquez) and hired Jordan Becker to design and consult on Bruno.
On September 25, 2015 we had our Bruno Gala. At the gala we toured the Bruno kiln shed and beginnings of Bruno.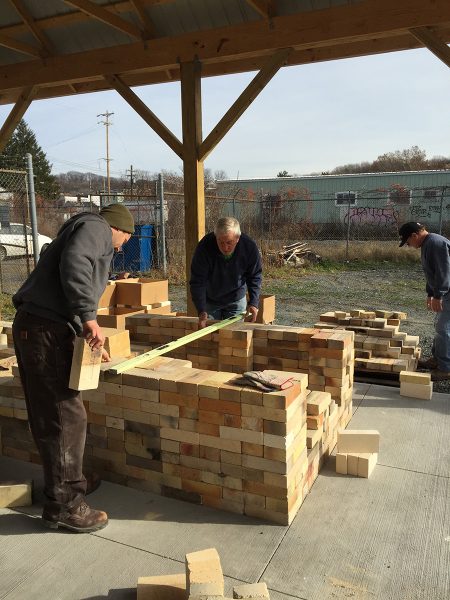 There were about seventy people at our gala and the excitement and anticipation was palpable. Bruno tiles were given to donors. Since that time, there have been many more donors which means there are more tiles made that will be given out to donors.
After the Bruno Gala work on Bruno continued. We knew winter was coming so in November 2015 we halted building and agreed we'd start again in the Spring. Patrick and his family had moved to California but he managed to return to Troy for a week during the winter and he valiantly worked on Bruno during his visit.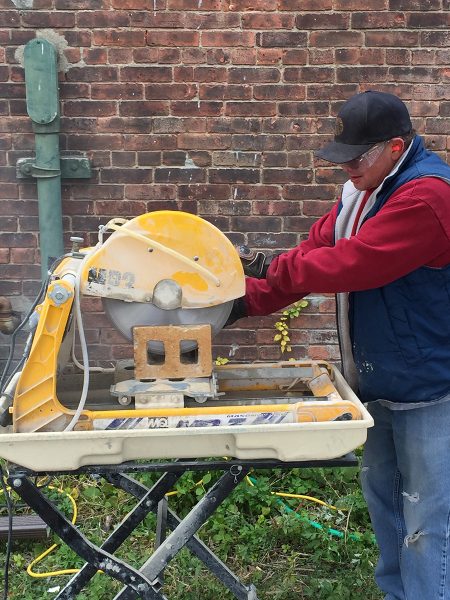 Wally Lane of Lane Refractories generously donated the use of a fantastic diamond blade mason's saw. In addition, those cool chimney and arch brick are from Wally's supply of brick and we refer to them as "Wally Brick". We can't thank Wally enough for his time, assistance and enthusiasm.
When Spring arrived we realized a different building tact needed to be put in place. We contracted with Jordan Becker to not only oversee the building of Bruno but for him to do the hands-on building. Spring 2016 saw Jordan coming to NEC/MCW several days almost every week. Bruno grew and has not only taken form with Jordan, Dennis and Mark's work but she is nearing completion.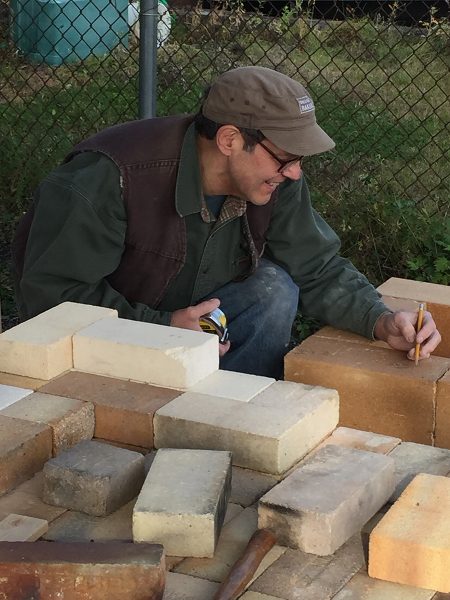 Kathy Catlin has generously given us pallets of hard brick which has been fabulous. Kathy and Will Larsen donated a huge amount of split and aged wood for Bruno firings. We are so happy and lucky as a community to have kind and generous potters and their spouses. Thank you!!
On May 17, 2016 we had a Bruno Gathering at NEC/MCW. Donors were invited to come to a potluck and see the progress that had been made on Bruno. They could see her graceful form, enjoy a potluck dinner together, view the bisqued vases for donation, a sample of the $15,000 donation goal yunomis and pick up the $10,000 donation goal woodfire slip recipes and samples.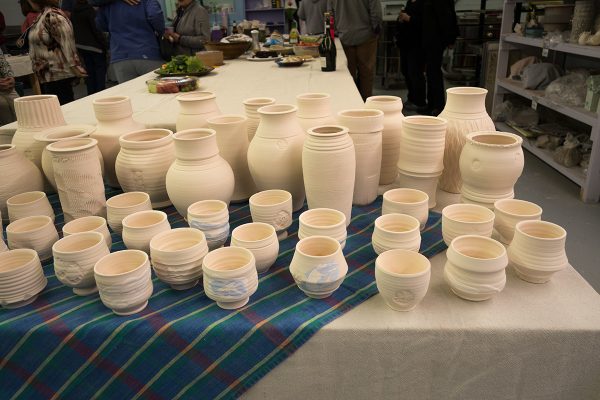 Questions were asked. Dennis, Jordan and Barbara said a few words and we enjoyed our evening together.
Now we begin our firing journey ~ thank you to all.
Let's begin!